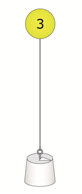 The wreck lies on its port side and what you will see are the inside timbers of the ship's hull. There are nine dive stations at points of interest around the wreck. Follow the shot line to the seabed, and the site is 20m south west of the shot line – there is a lead line you can follow from the shot to seabed station 1. Each seabed station has an arrow pointing to the next station.
Interactive plan of the wreck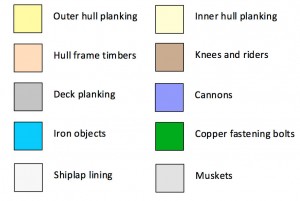 This is a 3D version of the structural site plan of the wreck of HMS Colossus, off the island of Samson in the Isles of Scilly. HMS Colossus was a 74 gun warship built in 1787 at Gravesend and wrecked in 1798.
Each colour represents a different structural element of the vessel.
How to use the interactive plan
Click the plan to load it and begin exploring.
Clicking or dragging on the model allows you to rotate it. Your scroll wheel or zoom gesture zooms the model in or out. Left-clicking, holding shift and right clicking, or using two fingers on a touchscreen allows you to pan around the model.
The numbered annotations on the interactive model can be clicked. To explore each dive station further follow the link in the annotation to be taken to another page on this site with detailed information. Use your back button to return to the model.
Alternatively you may wish to read about each dive station sequentially: Visit Dive Station 1
Direct links to all dive stations
Station 1 | Station 2 | Station 3 | Station 4 | Station 5 | Station 6 | Station 7 | Station 8 | Station 9 | Station 10 | Station 11 | Station 12
Further information on HMS Colossus
More information about the work on the wreck of Colossus is available on the CISMAS website. If you would like to see photographs or accounts of your visit on this web site please contact CISMAS.
Autumn 2019 dive trail refurbishment
The dive trail was refurbished in autumn 2019 by CISMAS.
Read more about the dive trail refurbishment.